2015 WAIS Workshop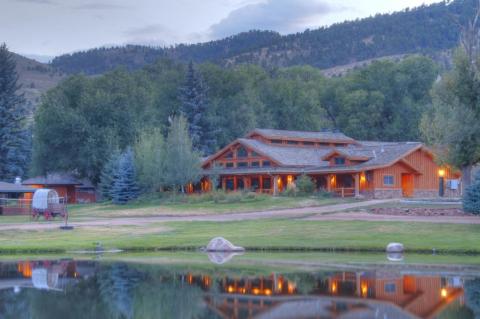 Twenty-Second Annual WAIS Workshop
September 16-19, 2015
Sylvan Dale Ranch, Loveland, CO, U.S.A.
The 2015 WAIS Workshop was held about an hour's drive from Denver International Airport, at Sylvan Dale Ranch in Loveland, CO. This multidisciplinary Earth system science workshop focused on the distinctive glaciological, geological, oceanographic, and climatic aspects of the West Antarctic Ice Sheet. The 2015 host is Ted Scambos of the University of Colorado Boulder.
The meeting began with an Icebreaker on Wednesday evening, September 16. Sessions were organized by topic, with keynote speakers for some sessions, followed by contributed talks and concluding with a panel discussion by the speakers. Poster sessions were held separately. The meeting adjourned after lunch on Saturday, September 19.
Following the WAIS Workshop were two Antarctic meetings held at the same venue (separate registration fees):
September 19-20: Amundsen / Bellingshausen Coastal Dome Project (contact Nancy Bertler)
September 20-22: 2015 Interdisciplinary Antarctic Earth Science Meeting with Shackleton Camp Planning workshop
 
Deadlines
The deadline for both Abstract Submission and Registration was Friday, August 14. Abstract submission is separate from the registration process.
The room blocks and conference rates at local hotels were reserved until August 15. See Hotel Accommodations, below.
Registration
Registration includes meals from Wednesday dinner to Saturday lunch, snacks and coffee breaks. Unlike in 2011, onsite lodging is not included in registration. Sylvan Dale hosted the 2011 WAIS Workshop; in 2013 it was hit hard by the devastating September flooding that struck the Colorado Front Range. Sadly, their cabins were wiped out and they no longer can accommodate overnight stays of large groups. The limited lodging available is for meeting organizers and invited speakers. Registration was limited to 85 attendees.
Registration fees:
$225 for professionals, including post-docs
$175 for active students (pre-PhD)
$150 for Colorado locals commuting from home
Please note that to attend the related Antarctic meetings held after WAIS, you will need to register with the respective meeting organizers. Each meeting has its own registration fee. See contact information above.
Hotel Accommodations and Lodging
We have secured rooms at several local hotels. Hotel rooms are at your own cost and include a continental breakfast. We are working on offering a shuttle between the meeting and hotels; however, you might want to consider sharing rental cars so that you have your own transportation.
Closest location is the La Quinta in Loveland. Almost sold out as of 8/4/15. Rooms are $149/night. The block is held under "WAIS Workshop" and the rooms will be held until August 15. 970-622-8600
The Comfort Inn of Loveland, 1500 Cheyenne Avenue has Standard rooms for $114/night and Studio suites for $124/night. This block is held until August 15 under "WAIS Workshop" as well. 970-593-0100
The Best Western in Loveland at I-25 and Hwy 34. Rate is $115/night. This block is held under "WAIS Workshop" until August 16. 1-844-548-5406
We also have SHARED lodging available at two rustic locations, and priorities for this lodging goes to meeting organizers, invited speakers, students and post-docs. This lodging is at Sylvan Dale Ranch and at Stoney River Lodge, which is 6 miles west of Sylvan Dale (see map below). Cost will be $150 for 3 nights. To request this lodging, indicate your interest on the registration form. We recommend you reserve a hotel room as a back up since the lodging at these sites is limited.
Agenda
Final agenda is now available! See http://tiny.cc/2015agenda.
Plan to arrive Wednesday, September 16 for dinner and socializing. The workshop is 2½ days, concluding with lunch on Saturday, September 19. We will have 45 talks. Following each set of oral presentations, a panel (the session's speakers) and the moderator will lead an open discussion about the general theme, and examine what the significance of new insights presented in the talks is for the WAIS system. This open, engaged discussion has been a very positive aspect of WAIS.
Additionally, bring (or buy) your cowboy hats! Thursday afternoon we will have time for activities on the Dude Ranch. More information to come as we work on the details. Friday afternoon will feature a discussion on future international collaboration on Thwaites Glacier.
Themes for this year are based on Western film titles:
In addition to talks, WAIS will have space for about 40 posters. There will be an opportunity to give a very brief overview of a poster topic to the audience just prior to the poster sessions. Posters receive a great deal of attention at WAIS.
Guidelines for Abstracts and Presentations
Abstract format and submission:
Talk guidelines:
Poster guidelines:
Meals
Registration fee includes pizza dinner on Wednesday, lunches and dinners on Thursday and Friday, and lunch on Saturday. Mid-morning and mid-afternoon snacks and coffee are also included. We will have a Cash Bar available with dinners. Please indicate any dietary restrictions you may have on the registration form and the Ranch will do their best to accommodate. Breakfasts are on your own, with hotels providing continental breakfast.
Air Travel and Ground Transportation
We recommend you fly into Denver International Airport, and either carpool to Loveland, or use the shuttle service:
You may wish to consider renting a car and sharing rides. The distance between the hotels and the venue at Sylvan Dale is 15, 20, and 30 minutes, depending on which hotel you choose.  We are also working on securing van(s) to drive people between the hotels and venue. These will be limited, however, so we recommend ride-sharing where possible.
Weather
The weather in Loveland, CO, experiences variations in September. Average highs for mid-September are in the 70s F with average lows around 50° F. Expect to bring sunglasses and a hat (or buy a cowboy hat at the Dude Ranch!) while you are here. Sunblock is recommended as we have intense sun at a mile above sea level, and the altitude increases your need to stay hydrated. View high altitude travel tips put together by the Loveland Visitors Center. While we have 300 days of sunshine, September does see some rainy days and sometimes snow. See National Weather Service forecast for the area.
Student Support
The WAIS group supports early career scientists, encouraging interaction between early-career and established Antarctic researchers. To this end, our budget includes airfare support for a limited number of students. We ask that interested students propose a talk on their recent research for consideration for the funding. Please submit a cover letter (by email to waisworkshop@nsidc.org) requesting travel support and providing a short justification. We estimate that we have travel support for 5-10 students or recent post-doctoral researchers (<3 years since degree) total, US and international. Please highlight the relevance of your abstract to West Antarctica, ice sheet stability, ice-ocean or ice-biology interactions, or polar climate change; and any other relevant information regarding your funding. Include your preferred travel itinerary. We will aim to inform students of the decision on their support in mid- to late August to allow time to purchase tickets; deadline to request funds is July 31. 
Subscribe to our mailing list for meeting notifications.
Questions? Please contact us at waisworkshop@nsidc.org